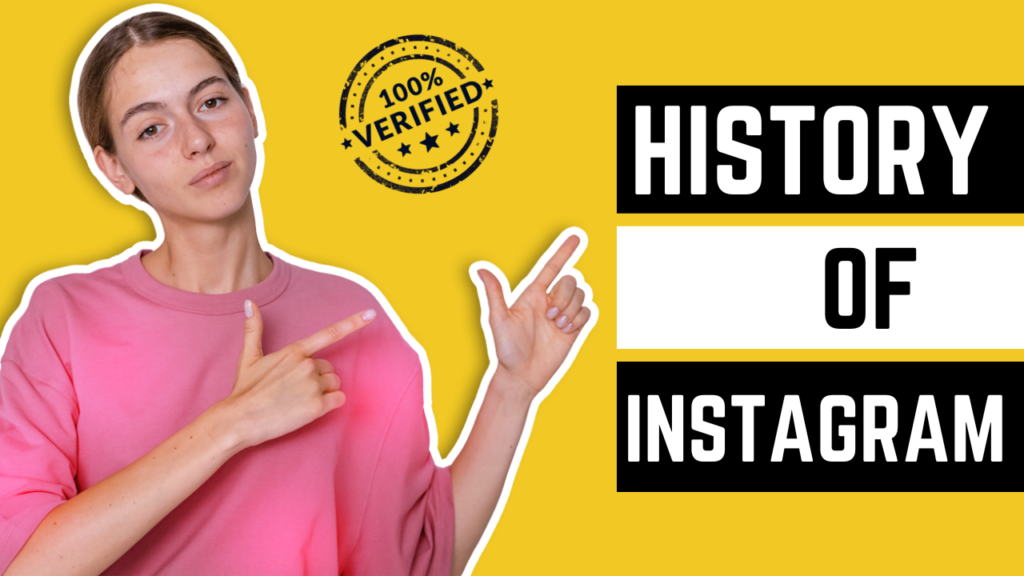 Today, Instagram has become one of the most popular social networking platforms. The growth of the photo-sharing platform is nothing less than a fairy tale. The photo and video content sharing app Instagram has been one of the fastest growing and emerging applications ever since its launch in 2010.
The social networking platform, which is owned by Facebook, was established by Kevin Systrom and Mike Krieger. In less than 2 years after it was formed, and with 13 employees only, the company was acquired by Facebook for $1 billion in cash and stock. But how exactly did Instagram grow and flourish so exponentially?
In this article, we will discuss about the History of Instagram starting to end.
Origin
Instagram launched on October 6, 2010, and the company quickly gained popularity. The company represents a concept entering the right market at the right time, as well as a great product-market fit. So, how did the idea of igniting social communication via images come around?
Background
Instagram's history is really intriguing. Co-founders Kevin Systrom and Mike Krieger established the company. Kevin wants to become his own boss, to work for himself, and to earn money. Kevin was already aware of the emergence of the social media industry before finding Instagram. Mark Zuckerberg contacted him to collaborate on the creation of Facebook, but he refused. Furthermore, he worked at ODEO, which later became Twitter, as part of a startup fellowship program.
Kevin had never coded before, so he spent his evenings studying. During the day, he worked at a tech company and then did his own thing. Kevin met Mike in a café after graduation, where they brainstormed an app concept. It was not Instagram.
Burbn
If you are familiar with Burbn, you are one of the fortunate few that are familiar with Burbn. Many people are unaware that Instagram was initially established as Burbn, which was a completely different concept. Kevin's love of quality whiskeys and bourbons inspired the idea. Users can share their location, photos, and anything else they wanted. Although location-sharing apps have grown in popularity, Burbn's photo-sharing feature was distinctive.
Burbn, although having a photo-sharing feature, was nothing like Instagram. It was just a check-in app. Kevin Systrom and Mike Krieger were both ecstatic with their idea. Kevin met investors at a pub and was able to get a $50,000 investment from Steve Anderson. Burbn quickly gained traction, and the two co-founders were able to raise more funding. Despite the positive buzz, the market did not respond favourably to Burbn, and the app collapsed.
Birth of Instagram
After Burbn failed to capture the market, Kevin and Mike made a really wise decision. They changed their minds! Most entrepreneurs are unable to do this. The two people did not adhere to the concept of Burbn, nor did they attempt to rebuild it. They realised it wasn't good enough.
Both founders approached their existing users and solicited feedback. They discovered that the majority of users were solely interested in the app's photo-sharing feature. They were uninterested in the other features. Kevin and Mike exemplified the essence of failure learning. They chose to concentrate on developing a photo-sharing app, and thus Instagram was founded. By no means were they the first photo-sharing app on the market. What set them apart, though, was the great customer experience they provided. Their unique selling point was the ability to send stunning images to a large number of friends at once.
How Did Instagram Become So Popular?
Instagram's emphasis on photo sharing and commentary resulted in high user engagement and word-of-mouth marketing as users urged their friends and family to join. Its user-friendly design and popular features contributed to its popularity. This combination caused users, who are infamous for having short attention spans, to browse through many posts and, in a way, become hooked to using the app.
What was the first photo uploaded in Instagram?
The first Instagram photo ever shared was of Kevin Systrom's dog, Dolly, when she was a pup. Systrom said that the photo was shot at Chilako tacos in Todos Santos.
Instagram's Growth and Logo Changes
Instagram hasn't altered much since Facebook bought it, although it has become a more all-encompassing platform. It has, for example, introduced:
Instagram Stories
Instagram Reels and Live
Instagram Messaging
The option to upload several photos or videos in each post.
The option to upload larger files is now possible.
Instagram's logo has also changed three times. Systrom first created it in 2010 as a polaroid camera with a rainbow stripe. This was designed to represent Instagram's mission (i.e., communication through photography).
However, the two co-founders opted to modify this the next year and hired a professional logo designer named Cole Rise.
The new logo, which was inspired by the 1950s Bell & Howell camera, was highly accepted. It did go through a few changes before being controversially changed in 2016, although they were minimal:
"Insta" rather than "Inst" on the camera logo
Rainbow stripe is slightly larger.
Camera logo has a slightly bigger lens.
Instagram's 2016 upgrade had a much more "minimalist" style, which hasn't altered since.
Even though most users disliked the new logo at the time, it turned out to be a highly beneficial business decision since it garnered a lot of attention for the company.
Let's now take a look at History of Instagram starting to end (Timeline of Instagram from 2010 to 2022)
Timeline of Instagram from 2010 to 2022
October 6, 2010
Instagram launched on October 6, 2010. (Instagram was originally only available for iPhone users until 2012)
December, 2010
Instagram reaches 1 million users in December 2010.
January 2011
Instagram adds hashtags to the platform in January 2011.
April 3, 2012
Instagram releases on Android.
April 9, 2012
Facebook announces the acquisition of Instagram for $1 billion.
May, 2012
Facebook goes public in May 2012 for $42 per share.
February 2013
Instagram reaches 100 million monthly active users in February 2013.
September 2015
Instagram advertising go live internationally in September 2015.
March, 2016
Instagram reveals in March 2016 that the feed would shift from chronological to algorithmic.
May, 2016
Instagram releases IG business pages in May of 2016.
August , 2016
Instagram introduces 'Stories' in August of 2016.
February, 2017
Instagram introduces carousel postings in February 2017, enabling many photos or videos to be included in a single post.
Jun, 2018
In June 2018, Instagram announced that it has one billion users.
June 20, 2018
Instagram launches IGTV and its standalone app in June 2018.
May, 2020
Instagram announces 'shops' on IG in May 2020.
August, 2020
Instagram Reels premiere in over 50 countries globally in August 2020.
July, 2021
Instagram officially reveals that Instagram Reels can be create up to 60 seconds long on July 20, 2021. (to further compete with TikTok)
Conclusion
Instagram, which started as a basic photo-sharing platform, has evolved into a beneficial marketing tool for companies as well as an integral part of our everyday social media use. Without a doubt, Instagram will continue to grow in the future, remaining important in our lives for a long time. After reading about History of Instagram starting to end, you will undoubtedly appreciate its phenomenal growth and online influence.