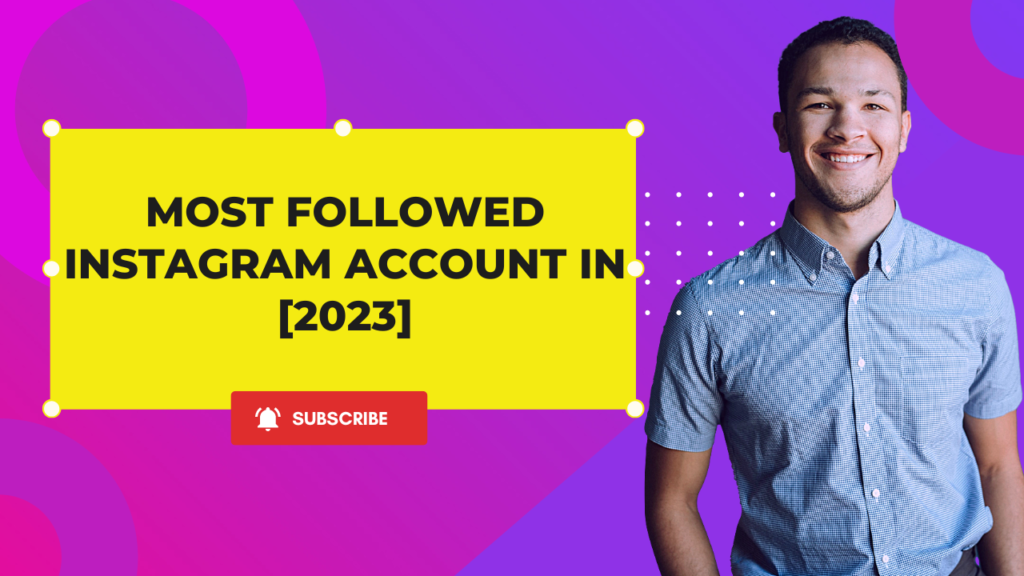 Are you interested in knowing which Instagram accounts now have the most followers all over the world?
We are all in agree that Instagram is one of the most powerful social media platforms available today. Every day, millions of users check into Instagram to receive the latest scoop on what's hot in the world of fashion and culture.
As a result, we've compiled a list of the Most followed Instagram account top 10 list,Instagram users who have the most followers on the platform. It offers a one-of-a-kind opportunity for celebrities to engage with their audience by sharing aspects of their private life and expressing their perspectives on a variety of topics with the public.
On Instagram, the amount of followers a user typically has directly correlates to the amount of content the user posts. We have compiled a list of the Most followed Instagram account top 10 list.
Followers: 569M
When it comes to the Most followed Instagram account top 10 list, the official Instagram handle is now in first place, claiming over 569 million followers as of the almost end of the year 2022. The most recent of its more than 7,289 postings contain a variety of the platform's well-known, creative, or otherwise noteworthy content providers, such as @sharawangsamulia, actor Rachel Zegler, Instagram-famous mini-pig Pua, or Lisa of BLACKPINK, and many others.
Followers: 499 million
Ronaldo's popularity (and following) have grown since his triumphant return to Manchester United. He is the most followed person on Instagram, with over 500 million followers. To put that in perspective, if CR7's 'Gram were a country, it would be the world's third most populated behind China and India, and just ahead of the United States. Another day, another goal for Cristiano Ronaldo.
Followers: 376 million
As one of Ronaldo's greatest competitors in football, it seems to reason that he'd be one of CR7's biggest on Instagram as well. From Ronaldo's competitor on the field to Ronaldo's rival on social media. The Argentine player has shown considerable skill on social media. He is fairly engaged on the platform, alternating between professional and personal photos. He has also recently posted a few Reels.
Followers: 372 million
The woman behind Kylie Cosmetics, Kylie Skin, Kylie Swim, Kylie Baby, and other brands is still doing well. Jenner is the first woman to surpass 300 million Instagram followers. Don't get too comfy, Ronaldo and Messi; she's still the most-followed woman on the planet. The race to 500 million is on.
Followers: 358 million
While Selena Gomez has been vocal about avoiding social media, she has been the list's quickest climber recently. Her photos, plandids, and candids provide great content for her feed, and Gomez uses her platform for good, publicly discussing mental health and urging followers to educate themselves on the significance of mental wellness.
Dwayne Johnson (@therock)
Followers: 348 million
In another neck-and-neck struggle for Instagram supremacy, The People's Champ and Ariana Grande remain neck-and-neck for the 5th most-followed slot, apparently switching places every few weeks or so. It is currently owned by The Rock, a Hollywood movie star, tequila entrepreneur, possible presidential contender (? ), and former WWE champion. With a honest glimpse into his life and an unlimited supply of gym and lifestyle encouragement, he has established an ever-growing fanbase.
Followers: 340 million
Following in the footsteps of The Rock, the Grammy-winning singer and The Voice coach has had an action packed few years that has kept people interested. Grande became the platform's most followed artist in 2019, and with a feed full of previews of what's to come (and the occasional glance back at what got her there), she doesn't seem to be relinquishing the distinction anytime soon.
Followers: 334 million
Kim Kardashian is one of the most renowned faces in the world, so it's no wonder that she's in the top ten. While Keeping Up with the Kardashians may have ended after 20 seasons, Kim remains in the spotlight and shows no signs of slowing down. With a forthcoming Kardashian-Jenner Hulu project in the works, it won't be long until she's back on our screens.
Beyoncé Knowles (@beyonce)
Followers: 283 million
There will always be one Beyoncé, even after all these years. With Lemonade, the singer-actress-songwriter-producer-dancer-businesswoman-director-and-more permanently revolutionised the way musicians release albums. Queen Bey has found a way to balance her larger-than-life popularity with the occasional personal view into her and her family's world through social media.
Followers: 280 million
Khloé takes the tenth place, becoming the third Kardashian-Jenner to appear on the list of the world's most-followed Instagram profiles. She must, however, defend her position against a fast growing Kendall, who has over 280 million followers.
Conclusion
Thank you for reading this article; we hope you found it useful. In this article, we have discussed about the highest Instagram follower in the world as well as Most followed Instagram account top 10 list.Instagram models are a great example of the platform's capacity to promote a wide variety of interesting content as well as the platform's enormous popularity.
The ability of these influencers to change customer perceptions in a manner that is more successful than that of more traditional types of advertising makes them an invaluable asset to many firms.
.We classified them based on the number of followers they had on their Instagram account.